Nomads Golf Nationals to be hosted in Knysna
Posted on Mon February 22, 2016.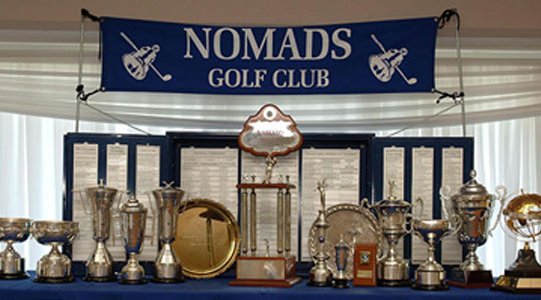 5th - 11th March 2016
Nomads Golf was first established here in South Africa in 1960. As its members were drawn from various clubs and played their regular competitions on a variety of different courses, the Nomads name seemed particularly appropriate.
Nomads Golf has flourished in the Republic; it has established clubs in all provinces and its national championship held annually boasts 360+ players.
The Nomads movement then spread over time to Zimbabwe, Botswana to New Zealand, Australia, the United Kingdom and subsequently Swaziland. Today there are close to three thousand Nomads spread around our clubs, all committed to our ideals of benefiting the game of golf and, in the process, raising substantial funding for causes that lend support for those less fortunate than ourselves.
In that regard, the role that the Nomads Golf Club plays in our society can best be described by quoting from the founder of Nomads, Mike Florance, more than 50 years ago. He wrote: "A long experience in and enjoyment of golf left me, in 1959, with a deeply held feeling that there was room in this game for some kind of association or club for business and professional men to come together in a closely planned and integrated programme of golf, with all games interrelated and offering a continuing thread of interest, and that out of this activity could arise some tangible benefit to two very proper causes: to the game of golf itself, and to those less fortunate than ourselves."
These principles are symbolised by the Nomads badge and logo, a bell crossed by a golf club, reflecting the philosophy expressed in the famous extracts from the Meditations of John Donne (1573-1631): "No man is an island entire of itself; Every man is a piece of the continent, a part of the main... Any man's death diminishes me because I am involved in mankind. And therefore never send to know for whom the bell tolls, It tolls for thee."
Knysna Manor House is proud to be hosting the Gauteng Nomads in Association with Aestas Guesthouse and Wayside Inn.  This annual tournament will be held at the Knysna Golf Club.
This annual tournament hosted by Southern Cape this year, will be attended by over 360 players.
At this time, 50+ years on from our founding, we, once again repeat a toast to our magnificent sponsors
If you feel you have read these sentiments, or something similar before, then you are most probably correct; the wording may have been assembled differently, the phraseology probably more succinctly put, the appreciation and gratitude may well have stepped off the page more forcibly but without doubt this is the most important message that Nomads wishes to express.
Simply put, the sponsors many contributions have directly enabled Nomads to honour our aims and objectives and place us firmly in the view of not only the golfing world, but also the view of the public at large in that we are organisation who truly "through golf remember others less fortunate than ourselves".
If you ask any knowledgeable member of the golfing fraternity in South Africa what we as Nomads do, the chances are that they would not use the exact words "through golf....." but instead would come up with a multitude of statements which communally says the same thing. Therefore it is equally to be expected that if you were to ask any Nomad to express his gratitude in respect of our sponsors you would end up with almost as many different versions as there are Nomads in the organisation but in essence they all have a common theme - "Thank you for being there and supporting us as you do".
Nomads in this ever regulated world is fully aware of the increasing responsiblities we have in being the conduit for donor funding and the corporate business world is openly finding Nomads as an increasingly attractive option when seeking to place their community responsibility funding. Over 50+ years of unblemished history and the professional manner with which we attend to our custodial duties only serves to heighten this interest. 
To all of you, large and small, national, regional or local, of longstanding or recent involvement - we thank you. To sponsors past "thank you" for being a part of this journey, we look forward to being of service in the future.
GET TO KNOW OUR NATIONAL SPONSORS
 UTI, a distribution and courier service provider, has undertaken to take care of all Nomad logistic requirements including courier of magazines etc. as well as storage and transportation of containers containing all the National Tournament equipment.
SAB Ltd, the South African brewing arm of the SAB Millar Group, although not commonly associated with golf, has been sponsor of Nomads since its inception in 1960. In the words of Antonio Rossetti, the company's General Manager On Premise Group Accounts, "The perfect putt matches the perfect pint, and at the end of the day, both combine to help those less fortunate than ourselves".
A recent addition to the list of national sponsors, Hollard Broker Markets has lifted a huge financial burden from the 12 clubs as well as the National Executive by offering short term insurance at no cost. With this substantial financial assistance clubs are now able to efficiently use this saving in other areas.
Hollard Broker Markets is dedicated to supporting intermediaries as they deliver expert and effective financial protection to South Africa's commercial world as well as the economies of seven other countries.  Nomads' business oriented members are sure to understand the value of dedicated expertise and specialisation in getting a job done right … and that's what Hollard Broker Markets brings to its broker network and their clients.  
Imperial Auto/Motor Finance Corporation (MFC) Motor Finance Corporation, (Part of the Nedbank group) 
Imperial Auto and MFC have embarked on a joint sponsorship. The sponsorship agreement of R4,2m signed in July 2013 and transpiring in December 2016 is the biggest single sponsorship in the club's history and will be used fundamentally for Junior Furtherance of Golf programs, ultimately introducing more South African golfers to the world stage.
TaylorMade, adidas, Ashworth and Adams Golf South Africa are Nomads preferred brands of golf equipment, recently renewed their sponsorship for another 5 years. TMaGSA, amongst various other sponsorships continue to support our National Nomad Andrew Mentis Endowment Fund fundraising effort for those less fortunate by supplying prizes for the Andrew Mentis fundraising golf day.
Tempest Car Hire is proud to partner with Nomads as a national car rental sponsor and supplier. Tempest offers short term car rental services to the leisure and domestic corporate  markets. The fleet peaks at approximately 3500 vehicles ranging from the small economical vehicles to mid-size to people carries and commercial vehicles. Our branch network consists of more than 25 friendly branches throughout South Africa which are situated at all ACSA airports, Gautrain nodes and major metro locations.
Tempest Car Hire offers Nomads members a minimum of 10% off our best online rates at any given time!
The story of Glenbrynth Scotch Whisky is not one of those romantic tales of bearded and kilted Highlanders who handed down a legacy of distillation in a tucked away wooded glen far from   the prying eyes of excise men. There are no top-hatted, cane-carrying logos or royal warrants accompanying this brand. But that doesn't mean that the whisky itself is not descended from a   historic line or that it does not have a legacy – because it does.
Glenbrynth is proud of the opportunity to associate our legacy with one so noble as Nomads and looks forward to many years toasting our mutual success.
Nomads Golf 
Europcar is committed to making your life a little easier. With over 100 locations throughout Southern Africa and a wide selection of vehicles ranging from economy, SUV's and MPV's to luxury vehicles, you are assured that Europcar will meet your travel requirements. We offer a wide range of accessories, including GPS devices, child seats and bicycle racks. These, plus our many other offers and personal customer service, are how we ensure that you make the most of your business or leisure travel.
Europcar are proud to be involved in many worthwhile community related organisations and are proud to be able to now associate themselves with Nomads and the great work they do not only for golf, but for the communities around them. Visit europcar.co.za.
 
We look forward to many more years together and a continuing happy association with you all.
In the meantime let us as Nomads do our bit by using recommending their products and services wherever possible, so that they are able to continue to help us. 
Until then the toast remains ..... "OUR SPONSORS!".