Knysna Fire
Posted on Fri June 9, 2017.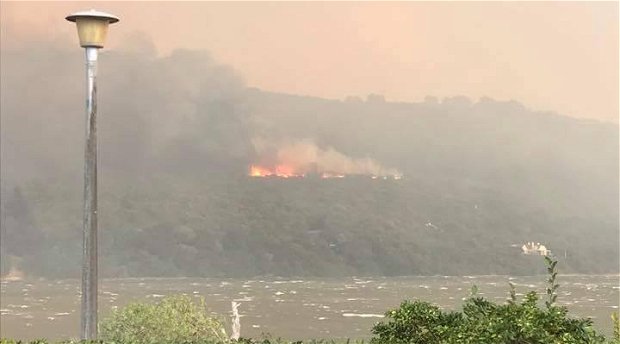 Knysna Fire - 7th June 2017
This past week Knysna experienced one of the worse fires in the history of the area.  Strong winds, and severe drought conditions enabled this ferocious monster to move easily across the whole of our beautiful town.  The fire did not discriminate between anyone or anything.  Forests and vegetation were destroyed, as well as many homes, including many guesthouses / B&B's.
Our historical guesthouse was spared, but we were fearful when our managers (i.e. my mom, stepdad and Marlene) had to vacate due to strong winds, thick smoke and spark filled air.  With the two dogs in the car, they left our 130 year old guesthouse, and took shelter with friends in a safer area.  We were all worried sick, as the whole foundation of the guesthouse is constructed with wood from the time it was built.  Any spark could have turned this historical building into an inferno.
We were among the fortunate ones, because on arrival back to the guesthouse the following morning, apart from the still thick smoke, and layers of burnt debris, we were safe.
There is not one person in Knysna who has not felt the affect of the fire, those who could helped wherever they could from coordinating, fighting fires, feeding those who had lost everything, to managing social media pages. 
Thank you Knysna for pulling together in such devastating circumstances.